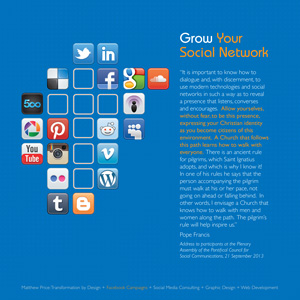 As we take up the challenge of the New Evangelisation, social media offers an unprecedented opportunity to proclaim the Gospel to all nations. If you do not already have a social media presence, or if your message is not reaching a wide audience, now is the time to start building one!
The highly experienced team at Transformation by Design will help you to organically build your social media presence, and ensure that it is optimised. We will also provide guidance for maintaining your social media platforms once you're on your own or can manage your social media presence on an adhoc or ongoing basis.
Our proven program builds a social media following amongst your target audience. The end goal is not just to get people to like your Facebook page but to keep them coming back again and again.
Matthew can design artwork at the highest optimal resolution for Facebook/Twitter/Instagram, setup and configure social media accounts and supply digital files for multiple use.
Expand your possibilities!!
[View Brochure] [Download Brochure]
Some of our success stories...
"The new technologies are not only changing the way we communicate, but communication itself, so much so that it could be said that we are living through a period of vast cultural transformation. This means of spreading information and knowledge is giving birth to a new way of learning and thinking, with unprecedented opportunities for establishing relationships and building fellowship."
Pope Emeritus Benedict XVI, Message for the 45th World Communications Day